Perhaps nature was sympathetic to the damage already inflicted on the city and county at the hands of corrupt and irresponsible officials—the abuse steered through the Port of Miami (right of picture) by its director, Carmen Lunetta, vibrated through the halls of Miami-Dade County government long after this twister was gone.

The "collars-for-dollars" scandal, involving fraud by many Miami-Dade County, City of Miami, Miami Beach, and other municipalities' police officers, revealed a wide-spread attitude of greed and adversity against the public, and in at least one department, Miami Beach's, a troubling sense of contempt for, and a resistance to civil authority was evident. The county department disciplined 36 officers for the "collars" scandal, while the two next-largest departments, Miami and Miami Beach, did almost nothing. Evidence of this twisted public-service attitude was plainly reinforced when the Miami-Dade County Police Benevolent Association defended not only the reprimanded officers—calling their punishment "political" and a consequence of The Herald's coverage of the fraud—but also when they campaigned in Tallahassee on behalf of Bruce Kaplan, a county commissioner who falsified financial information and resigned in a plea bargain with the state attorney. Representing those who are sworn to uphold the law, the PBA instead consistently turns against it. In the case of Kaplan, a union supporter, it urged him to renege on his plea bargain. Incredulously, the PBA president, John Rivera, lashes out at the prosecutor as the wrong-doer, saying that Kaplan was being forced out because he is pro-police! The assistant state attorney responded to the PBA action by saying, "It shows the depth to which some people descend to defend unethical conduct [and] the problem of corruption...when you have an aggressive stance by the State Attorneys Office, you can be attacked by...people who are supposedly in law enforcement." But the Miami-Dade PBA chapter isn't the only PBA segment failing to stand first for the law. The state direcor of the PBA criticized the inspector general in defense of member corrections officers who were derelict in their jobs, allowing the escape of a murderer serving two life sentences in the South Dade state prison. In the City of Miami, the police chief had no qualms about responding to a persistent internal crime with biting pointedness by saying that "police-planted guns are popping up like weeds." All of this, a combined situation of disparate, empowered adversity, poses a far greater threat than any tornado.

As for Miami, many residents would have said, symbolically, that the tornado should have passed over and swept away City Hall, just as they unsuccessfully attempted to do when the question of abolishing the city government was overwhelmingly defeated in a special election.



Banana republic

The City of Miami abolitionist movement was created because Miami is plagued with a history of corruption which has led to the reality of financial crisis. Its government, a Cuban-majority commission, was unwilling to present a fair redistricting plan to voters in the election; instead, approving a plan drawn by then just-indicted Commissioner Humberto Hernandez, a plan that shuts out half of the city's Black population in favor of a non-representative, Cuban super-majority.

Hernandez, smiling smugly as he was arrested, and blaming his indictment on a U.S. government, anti-Cuban-American conspiracy, and the timing of his arrest on politics, was, along with seven others, charged under a federal indictment with running a large bank-fraud conspiracy. His election to office under the city-wide system left Miami's government without a Black representative for the first time in decades, and Hernandez was then elected by the Cuban-American exile community, despite that it was public knowledge he was fired from previous city employment for misconduct and was under the cloud of a federal investigation; a cloud which, following his suspension by Florida's governor, had swept him out of City Hall. Yet, Hernandez did not withdraw as a candidate for his self-tailored district in November's election, and he unfortunately was reelected.

The Cuban community that doesn't care about corruption when it casts its vote was critically portrayed by most leading city columnists and others, Cuban and otherwise. Robert Steinback, a Black Miami Herald columnist, said the Cuban community is gullible. Liz Balmaseda calls it "a knee-jerk majority" that would elect a hamster wearing a Cuba Libre T-shirt, and, "They only cared that he was Cuban." Florida International University (F.I.U.) associate Professor Dario Mareno, a political scientist who was consulting Hernandez, called the community that elects the likes of a Hernandez to office "less-educated, less-acculturated, more elderly and poor." If this Cuban, emotionally-based political response is an Hispanic characteristic, it would explain the rampant election of dictators and corrupt officials into the governments of the Caribbean and Southern Hemisphere.

This mentality, or lack thereof, certainly didn't affect the Miami-Dade County district two (Black) special elections, called to replace the seat vacated when Governor Chiles removed Black Commissioner James Burke from the county commission following his indictment for bribery and money laundering. Chiles replaced him with a respected neighborhood community worker, Dorrin Rolle, but rather than allowing Rolle to remain until the next regular election, the Cuban-American majority county commission voted to call a special election. Burke, seeing how the Cuban community had taken the Hernandez lies and misconceptions hook, line and sinker, decided to weather the storm and paint his own imaginary rainbow, registering as a candidate for his old seat, switching to native-African dress and claiming his indictment was a conspiracy against Blacks. His former top aide, Billy Hardemon, also indicted, echoed the race tactics of Hernandez and O.J. Simpson when, replying to the indictments, he said, "These federal agencies have a history of lynching Black men." The indictments of the two men, by the way, are tied to dealings with Calvin Grigsby, whose crane company funneled Port of Miami money into improper and illegal use under Carmen Lunetta's supervision. Burke was finally defeated by Rolle, with 73 percent of the vote, a result many of the columnists and other critics of the Cuban community's reelection of Hernandez praised as an example of "the people's" growing unwillingness to accept corruption—they were never quite willing to point to the differences in the electorate that produced the starkly different results. In fact, perhaps deigning to credit Black voters, some columnists, in explaining why Burke was so soundly trounced, went out of their way to point at reasons other than those they criticized when Hernandez was reelected .

This same result, of deflecting cause, seemed to occur following a Princeton-Michigan State University study which found that Cuban-immigrant students have the lowest performance of any other immigrant group. The results of the study were confirmed by a two-year F.I.U. study of students in Miami-Dade high schools, but in that case, the Cuban-American students' poor performance was blamed on the successful assimilation of the Cuban-American students into negative aspects of American culture as compared with the other immigrant groups, and that their influence by these negative factors is similar to any middle- and working-class American high school. Fidel's greatest loss in the exodus may have well been the propaganda experts who invent these explainations.

Many of the Cuban-American critics who were silent after the Cuban community was criticized by the press for reelecting Hernandez came out of the woodwork after F.I.U.'s Professor Moreno said basically the same things when he likened Miami to a "Banana Republic" on the nationally broadcast show 60 Minutes, pointing to its corruption, vote fraud (which I'll get to later) declining economy and ignorant electorate. He also said that Cuban-Americans have "perfected [corruption in government] in many ways to a fine art." That is not correct, however, because if corruption is done that well, it is unnoticed and subtle. Corruption in Miami's Cuban-American government has been crude, blatant and openly defiant. The NBA's Miami Heat head coach Pat Riley painted a more dangerous, though nonetheless accurate picture of Miami when he said, in the January 2000 issue of GQ Magazine, that Miami "is a pastel city that will charm you with its grin as it slits your throat with a pearl-handle razor."

Former Miami Mayor Maurice Ferre, commenting on the City Hall mob that booed and mocked Joe Carollo as he vacated his office after Xavier Suarez was named winner of the November 1997 mayoral election, said it was like "something out of the Third World...they reminded me of the mobs that shouted 'To the wall!' in Cuba. That doesn't happen in any civilized country—certainly never before here." There was no inflamed critical response to that criticism, but in response to Moreno's similar statements of perception, Jorge Rodriguez-Chomat, a Cuban-American state legislator from Miami-Dade County, again revealed the exile-right's concept of freedom of speech and tilt toward suppression of truth when he demanded that F.I.U. fire the also Cuban-American professor for his remarks, threatening to cut off state educational funding that falls within the purview of his committee. His intent to suppress free expression through threats to F.I.U. administrators was just a repeat performance, though. The University of Florida once hosted three Cuban professors as part of a forum which he demanded be canceled. Aside from trying to strip away free expression, Rodriguez-Chomat also tried to strip away the dignity of the Florida Congress when he physically attacked a member of his delegation on the floor of the House. Fortunately, the September 1998 primary election saw him booted from office.

Demands for the removal of the tenured F.I.U. professor, or for a forced apology for the 60 Minutes interview statements were also made by the other usual and predictable Cuban-exile and community groups, but all to no avail. These groups and individuals were then criticized by the press and by Moreno when he refused to apologize, criticized as acting with a consistent fault that allows the problems to remain and continually resurface: that, from some Mafia-like code against self-blame and exposure, they attack the messenger rather than the corrupt politicians who twist ethnic loyalty to shield their own selfish purposes. "A banana republic has political corruption, election fraud, political instability, and economic underdevelopment," said Moreno. "Tell me, where am I wrong?"

In the Hernandez suspension, Miami's Cuban mayor, then Joe Carollo, had ten days to appoint a replacement for Hernandez's chair, but he refused to consider any replacement without an agreement that whomever it was would not run for election when the appointed term was up. He claimed fairness as the reason, either ignorant of or ignoring the fact that an intended candidate would have given voters a valuable chance to evaluate his or her performance prior to making an election choice, and that if a person of "honesty and integrity," as he put it in a statement to the commission, was appointed, that appointee would be too rare and valuable to bar from government service. In any case, his decision may have contributed to Hernandez's success in regaining the seat in the subsequent election, since it deprived voters of the opportunity to become comfortable with a qualified incumbent and shielded Hernandez from the opposition that may otherwise have been created. But, the isolationist attitude of the exile community—their unwillingness to embrace American ethnic, social and economic diversity, could likely have prevailed anyway in the face of Hernandez's anti-government and ethnically biased platform. Whatever the criticism of Cuban-American leaders and groups, they cannot hide the fact that the Cuban-American electorate knowingly voted to put a now-indicted and once-fired city employee into an office of trust. As it later turned out, a Cuban-American mayor (Xavier Suarez), was elected by the weight of a fraudulent vote that centered in that indicted commissioner's district, and Hernandez later would be investigated as having directed the fraud there. And worse yet, the fraudulently elected mayor then acted with disrespect of the spirit of law, of the voters, and of both the office of commissioner and mayor, by appointing Hernandez as chairman of the commission, and then making him head of a law-enforcement counter-investigation. The denouncement of those acts by these heretofore Cuban-American critics never appeared, and without it, their words, critical of the spoken truth of a Cuban-American failing, float as lightly as the clouds on the wind.



Displaced natives, history

Miami's mayor (take your pick, but in this case, Carollo) also had concerns in ethnic politics, but he was astute enough to realize that he must control them with a very long, hard-to-see wire. He could not make the wire invisible, though, and by any measure that indicates fairness and a true appreciation of freedom, a Black should have been appointed, the best-qualified Black available, with no promises not to run for office. And the mayor knew this, and he did this, knowing that appointing a Black to the temporary post, whether or not a Black that had promised not to run in the regular election, was a small price to pay to get the unfairly drawn, over-weighted, five-district plan approved by voters, which it was, and it is a position to which he could readily point in defense of any ethnic accusation and any subsequent lawsuit to overturn the unfairly gerrymandered district. More important, he knew—almost everyone knew—that no Black fill-in was going to win the seat of Hernandez in the next election.

The undeniable driving force behind the support for a change to districting, and against maintaining the status quo, which allowed for no Black elected representative, was the fear of federal-court intervention, resulting in restrictions to the majority to protect the minority, restrictions that likely would have long-term effect and not be possible to overcome. Thus, in came the five-district plan which was approved by Cuban-majority voters. In this, Max Castro, a columnist in The Miami Herald's Spanish edition, El Nuevo Herald, was smarter than the mayor. Castro's successful persuasion of the commissioners and his community to go along with the seven-district plan would have prevented any possibility of a court-imposed interpretation, limiting future "options."

The mayor also had no need to read the government's reports on population growth, reporting in the week of August 17, 1997, that the Hispanic growth rates are the highest of any group, which remains the case to this day, and that Dade and Broward are national, growth-leading areas. A later report showed that Hispanics were the second-largest ethnic group in New York City, where recent immigrants made up 34 percent of the residents. The mayor knew it was only a matter of time before the only possibility of a South Florida government panel that is not completely Cuban would be in whatever neighborhood-council types of government that exist, which have limited authority only in very specified areas.

It may have been the same knowledge of which Max Castro was aware, upon which he had launched his appeal for fairness—now and in the future—that called upon "obligation" as the only real requirement to which the majority may now be bound, while more than a generation of culture that built the Florida coast was destined to become little more than a memory, visible in only old architecture, pictures, and the memories of those who remain, in ever-dwindling numbers. And, as bad as that is, there are Cuban-Americans who would erase even that heritage, replacing it with a travesty of fiction that this city, this county, even this region was built by the Cuban invasion, begun in 1965, when 260,000 Cubans—more than one-quarter of Dade County's then total population—arrived en masse. Luis Sabines, president of the Latin Chamber of Commerce, spoke with twisted intent, ethnic-crippled memory, and lame respect for those who did make this community, and have been displaced, when he said, "We Hispanics have made this city, and we're not going to lose it."

Howard Kleinberg, a frequent, special contributor to the editorial section of Miami's only daily newspaper (another problem with which Miami is afflicted), The Miami Herald, in his October 7, 1997 editorial, reminds all who have forgotten or have never known, that it was as early as 1954, when Fidel Castro was in jail, that Ralph Renick (who's that?) reported on the air-waves of the then CBS affiliate, WTVJ Channel 4, that Miami was breaking records in tourism, banking, construction, and was second only to Atlanta, in all of the South, as the largest metropolitan area. He notes that only five years later, when Fidel Castro came to power, Miami was in a full-force western expansion and extending the land into the bay for development—a force which had already created 50 Dade shopping centers with a half-dozen more under construction. Miami was already a leading tourism destination, there were more than 2,500 manufacturing companies, completed banking transactions $10 billion ahead of the previous decade and, to that point, not yet a single Cuban exile.

Kleinberg, in addressing the issue of the renaming of streets and sites for Latin-American heroes who never set foot in the area, also wrote that true pioneers are "banished to some sort of historical purgatory," and that, "trying to convince South Florida to be historically accurate...or principled, is tantamount to spitting into the wind." Indeed, in the end, the Cuban majority did not recognize or consider history when they voted to retain their unfair control of a political system that, under their stewardship, so nearly was destroyed by corruption and mismanagement—only a part of the change overrunning the city, and beyond, for which those who moved into the region since 1965 may really claim responsibility.

If, as commissioners had said in explaining the rejection of the seven-seat district, the cost of running the city were truly an issue and ethnicity were not, the commission would not have come under the guns of Max Castro, however motivated, whose well-expressed intellect attacked the issue in writing, published in The Miami Herald. He said, in argument against the commission's thin-as-standing-summer-air cost excuse, that a price should not be applied to fairness in government. He said that the Cuban majority is ignoring an obligation of " decent treatment [to] a community whose votes and labor helped create this city, long before Cubans even dreamed about living here." And he then places the blame for Miami's financial problems on the "astronomical salaries of many officials...the old-boy network, corruption, concessions to private interests," and the city's donation of public funds to an excessive sweep of anti-Castro [Fidel] industries and organizations. Those reasons are expanded by others, including excessive salaries and benefits (abused to the point of, at minimum, moral theft), the excessively lucrative entitlements of staff and employees, and corrupted financial management accompanied by invisible oversight.



Tomas Regalado

If those self-proclaimed, freedom-loving commissioners were so concerned about the cost of providing equitable representation to the people, then the commission, and particularly the commissioner most often playing the race-card (after Hernandez), Vice Mayor (under the old system, now just Commissioner) Tomas Regalado, would present a four-member commission to the voters, one Hispanic, one Black, and one Caucasian, with a non-voting mayor, all county-wide elected. But that would be a commission with no room for commissioners so obviously biased in ethnics as Regalado, who reveals it in meaningless, self-serving letters to the newspaper, public statements, and drawn-out, repetitive commission diatribes, where he attacked the leader of the abolish-Miami movement for speaking on local radio—Regalado is the proverbial pot calling the kettle black, although in that case, there was no black kettle.

No, instead the commission would consist of government servants of a higher vision, focused on addressing the most difficult needs and problems of the city's separate ethnic communities, including the also unrepresented Caribbean and Asian, while at the same time doing what's best, collectively for all. It would act out of the recognition that it is that type of shared focus and tolerance which will be what most benefits the special interests of each different community segment. I've not seen a capacity or inclination for that type of thinking in anything said or done by the elected commissioners or the mayors. It has only been heard in the statements of the person who ultimately was named as the Miami mayor's pledged appointee to a politically terminal, short-term seat: Black activist Thelma Gibson. She was replaced in the election by votes from within the single Black district of the five total, by an experienced and relentless public servant, Commissioner Arthur Teele, who immediately set about complaining about the wasted time and effort of his commission in properly tending to the important work that must be done, pointing his substantiated and corrective criticism not only at commissioners, but at failings of the staff, mayor, and the governor's financial-oversight board.

Interestingly, the ethnic-equal commission composition I described above was exactly what Thelma Gibson told reporters would be the make-up of her staff for the short term of her appointment to the seat previously held by the criminally indicted Hernandez. The fact of the matter is that, on the city and county level, district representation is not in the best interest of the citizens, because the areas and populations are too small to be cooperative when so divided, and the geographical and economic factors are too homogeneous and interdependent to benefit or be protected by fabricated and divided political boundaries. It only benefits the politicians, who draw upon that politically divided electorate in ceaseless efforts to pedal influence and control the disbursement of resources.



Freedom of speech—not for all

Miami City Commissioner Regalado's ethnic venue pales in its wrongful vision when compared with that of Dade County Commissioner Bruce Kaplan, who introduced a motion to remove his appointee, Peggi McKinley, from the county's film and entertainment industry board for expressing an opinion (her responsibility as an appointee) going against the far-right, exile mind-set which supports a ban against the county's doing business with any entity that, directly or indirectly, does business with Cuba, an ordinance which infringes upon the authority of the federal government's State Department and conflicts with its laws in that issue, and which threatened an estimated $10 million in tourism revenues, over four years, from an international music industry convention which rightly refuses to exclude Cuban artists from its programs. McKinley filed a federal violation-of-free-speech suit against the county and Kaplan, which was eventually unsuccessful. Mr. Kaplan, however, was forced to leave office five months later (two months after his indicted colleague, James Burke) after pleading no contest to criminal misdemeanor charges relating to omissions and falsehoods he placed on financial disclosure forms filed with the county elections department. Among the discrepancies uncovered, he failed to list income received from his legal representation of a communications company that set up 900-number phone-sex operations. This wasn't his first act of questionable ethics or violation of law in office, though. He previously had paid a fine for violating the Florida Sunshine Law, and Kaplan asked American Airlines to hire him to represent them while he was serving on the commission committee that oversees their operations at Miami International Airport. Blocking the trend of criminals running for the offices from which they were removed, the State Attorney also barred Kaplan from running for reelection as part of the plea agreement.

It was not surprising that city political motivations mirrored those of the county. The county's new, strong mayor, Alex Penelas, failed miserably in his handling of the first major issue of democratic principle, and he demonstrated that he, too, has an interest in ethnic political consequences, one that exceeds fundamental considerations, when he, first, waited too long to respond to the McKinley issue, and then, only expressing his support of the right of free expression, while failing to either reinstate McKinley or waive the county ban against the international music group. The county mayor also demonstrated that he can work an issue two ways, when, speaking against import sanctions targeting Chilean salmon, he practically quoted the words spoken by McKinley that caused her removal, saying, "It is simply unacceptable to us to allow the interests of a few to jeopardize our economy." In this case, instead of the "few" being the exile-right, to which McKinley referred, it is the American salmon industry of Maine and Washington state. Penelas is squarely putting his ethnic concerns ahead of the interests of the country as a whole. He does not see the people who work in the salmon industries in Maine and Washington state as fellow citizens in this nation. He only sees the Exiles. But, this "anti-American" turn of the coin aside, whether the mayor had the power to reinstate McKinley or not, he should have done so, immediately, to teach—electorate and elected alike—a lesson that is repeatedly shown to be in dire need of being learned: that there can be no compromising of responsible free speech in a democracy. Since the mayor failed to be the teacher, and since the teaching is so badly needed, the People for the American Way Foundation sponsored a "class" targeted against South Florida Hispanics who are ignorant of the concept. The Speak Up Miami campaign celebrated free speech by posting the quotes of noted libertarians and philosophers on billboards and bumper decals throughout the county, displaying the apparently not-familiar-enough words of Jose Marti: "The respect of freedom of thought is my fanaticism," and Martin Luther King Jr.: "Injustice anywhere is a threat to justice everywhere," and Voltaire: "I disapprove of what you say, but I will defend to the death your right to say it."



Miriam Alonso

Pots, kettles, glass houses and Miriam Alonso

These events, the corruption, the ethnics, repression and others, distinctly point to two major problems of government prevalent in Miami-Dade County, in the City of Miami and, to a far lesser but now noticeable degree, in the Florida legislature, where two Havana-born South Florida representatives, Jorge Rodriguez-Chomat and Carlos Valdes, made that body into a third-world banana republic by fighting on the floor: the business of governance in and within Miami-Dade County has not been based in responsible, attentive administrative and fiscal management in the solving of community problems, but rather has been preoccupied with a misplaced focus in the business of self-interest, ethnics, pork-barrel budgeting, and entrepreneurial management. A case in point was Miami-Dade Commissioner Miriam Alonso's June 9, 1998 letter to The Miami Herald, which addressed the harm done to the community by corruption, influence peddling, and negligence. The letter was little more than political grandstanding and a classic case of throwing stones from within a glass house. Alonso's letter, presuming to offer insightful instruction on honest government to the unenlightened public, served no other purpose than to, by cheap propaganda, promote her political aspirations. She would far better serve the community by doing what she says should be done—lead by example. In the case of her letter's reference to the majority of officials who maintain "administrative integrity," she falls flat on her two-sided face and certainly may count herself as not among any who may actually exist. She also boasted of introducing legislation that freezes benefits of officials who are suspected of improper use of public funds, pointing out that it attacks those guilty of "negligence in their duties and in managing the people's money." Again, she is deep among the culprits.

Alonso didn't dare bother to point out that Port of Miami Director Carmen Lunetta wasn't able to steal and help others steal and misuse $1.5 million dollars of Port money all by himself. He received a great deal of help from Miriam Alonso and other members of the Maritime Trade Committee, which Alonso chaired while Lunetta went loony with the money. The committee's purpose, as defined by Alonso's chief of staff, Elva Morales, was primarily "oversight of the Port of Miami." Alonso served as chairperson of the committee from November 1996 until it was swept away along with the other county committees by Mayor Penelas in January 1998. Penelas was certainly right when he observed that the committees were a waste of time and money, because on the Maritime Trade committee, Alonso failed miserably in carrying out the major responsibility of her committee, her chairmanship, and her public office, by completely ignoring oversight, all of which makes her attempt to lecture on negligence and administrative integrity about as empty as the Port's coffers, which were entrusted to her hands. Aside from this administrative incompetence, the consequences of which would have caused her to be fired were she working in the private sector, she is also guilty of committing acts of snake-like integrity, such as a short-term apartment rental just to qualify to run in her commission seat's district, inaccurate address information provided in at least one election, nepotism, false reporting of academic achievements, soliciting and accepting special services from county departments, and putting the race card front-and-center in her campaign by inviting voters to elect her "because I'm Cuban!" If national heritage were a qualification for public office, it certainly would have proven to be the only one she has shown herself capable of fulfilling, and that would only be to the credit of her parents.



Jorge Mas Canosa

Separatism—national, ethnic, or economic—unworkable

Aside from concentrating on the real work of public service administration and management, these local, Cuban-American dominated governments must also move away from acting on issues which are based on an island 90 miles south of the United States, away from involvement with ethnics, be it Hispanic heritage or any other (functions which more properly were handled by community centers), and it must get out of the business of promoting and operating enterprises that example shows are better left where they belong—in the private sector.

The late Jorge Mas Canosa, the undeniably powerful founder of the right-wing Cuban American National Foundation, was a major force in setting in motion the infiltration of these problems into the fabric of South Florida government and exile persuasion. His company, Church & Tower (which was under investigation in a $3.9 million road-paving scandal with the county water and waste department), and his political foundation successfully put pressure on virtually every level of government to obtain not only business, but to advance the separatist objective of its leader—his return to Havana, post Castro. One of Mas Canosa's most profound statements against assimilation of the Cuban-exile culture into the American tradition of cooperative ethnic heritage was made in a 1992 interview with The Miami Herald:

"I have never assimilated. I never intend to. I am a Cuban first. I live here only as an extension of Cuba."

Think about the meaning of Jorge Mas Canosa's statement. To the Cuban-Americans who came in the airlift, or in boats or rafts to build new lives, it is a statement of denial and self-imprisonment within a lie, because most will never return to live on the island again, yet in living here by Mas Canosa's words, they deny themselves and their community the new and better heritage they are building here, and they tell the Americans who were here before them that instead of welcoming new citizens with whom to continue to cooperatively build the community, they have opened the door to invaders who have no interest in building anything except their own separatist and divisive culture. Mas Canosa, like Melville's Captain Ahab, made that statement out of a deep hatred for Fidel Castro and an obsession to destroy him and stand in Havana having survived him. Are German-American, or Irish-American, or any of the other ethnic groups that make up the melting pot that is America, Americans second? No. Only the Cuban-American exiles are Cubans first, and that philosophy works against the best interest of the nation and the community. But here, rather than the obsession killing Ahab, in reality it will only harm those who are left behind as they continue to live by it.

This is the ideal that must now be finally overcome, and with it, elected leaders like United States Representatives Lincoln Diaz-Balart and Ileana Ros-Lehtinen, who cling steadfastly to its cruel dictates. Ros-Lehtinen, born in Cuba, spoke out against easing the U.S. embargo against Cuba by attacking those who oppose it, calling them "Castro"s puppets," and accusing them of "promoting the lies and propaganda of the [Castro] regime." Oliver Stone, in support of Cuban-arts expression, calls the ban "nonsense" and the supporters of it "right-wing stone heads," and sentiment in Congress against the exiles' grip on U.S. policy on the issue seemed to be mounting, if an anti-exile chorus which arose in the U.S. House Ways and Means Committee's subcommittee on trade is any indication. There, in an early May 1998 hearing on proposed legislation to lift restrictions against food and medical sales to the island, Rep. Ileana Ros-Lehtinen assumed a link between the views of the Cuban-American community and the Congress by telling the subcommittee that its hearing, expressing support of lifting restrictions, is out of step with both, and prognosticating that Congress will continue to support sanctions "in defense of Cuban liberty," and that, "The Cuban people will be free because of the Cuban people." Rep. Charles Rangel, D-NY, countered that, if that is true, it would be due to "the Cuban people in Cuba, not Miami!" His retort brought a wave of applause across the hearing that receded only after the chairman invoked the gavel.

It seemed that the legislators and viewers in that hearing had become aware that time and observation have demonstrated that the embargo is ineffective, most harming the Cuban people, not Castro, in fact, helping Castro keep his people behind an ideologic wall, from the "contamination" of free commerce and Capitalism, the very weapons that brought down the Soviet Union and the Berlin Wall. In that sense, the embargo is a costly barrier to a needed and eventual normalization of relations. Nonetheless, the Bush administration continues to pander to the exile community by supporting a continuing of the economic war against the Cuban people. When Ros-Lehtinen or either of the Bush brothers use name-calling and false assumption to support an anti-Cuban economic position, who is really the liar and propagandist? Pot again calls kettle black, and again, in Ros-Lehtinen's case, it is out of a determined obsession to hurt Castro, no matter the cost, which is paid by America and other nations of the hemisphere, and will always be to the detriment of all who now must live together in South Florida; while for the Bush brothers, it's sacrifice anything, say anything for the Hispanic vote.

Perhaps the Cuban-first interests that motivate Ros-Lehtinen, and the separatist intent of those who, as Mas Canosa did, also treat this country as little more than a base of anti-Castro operations, are only representative of the growing pains of a city and county of suddenly-here immigrants, and will pass in the next generation. Or, maybe it is a concerted effort to grow and spread and yet always remain apart from that much larger part of the nation that existed before them. If these ideologies are to give way to more positive thinking and ambitions, aside from leading citizens away from this elitist, separatist ideal, elected officials need to examine the virtues of the Jeffersonian phrase, "less government is better government," because the community needs of government are not nearly as far-reaching as the many departments and interests in which the government is now so poorly involved, with its elected officials making reactive decisions on the options which circumstances present, rather than shaping, executing, and monitoring the administration of sorely needed programs.

Despite temporary Miami Commissioner Gibson's crystal clear vision, and that of Max Castro, in his eloquent, vain attempt to persuade the commission to adopt a seven-district plan, or Arthur Teele's, in pushing for more cooperation and responsibility, I know that installing a government in South Florida that is not motivated by ethnics is beyond the realm of political science fiction, and that the ethnic voting priority, well in evidence in recent years, is in steady motion to do away with history, fairness and the rights of people to be represented in government. Lesser abuses have caused storms of violence to raise the streets of Miami in the past. But understand, I can imagine things as alien as that because I also have an eye on Mars.

Meanwhile, "Sly" Stallone and Madonna created a whirlwind by trying to shutter their neighborhood's public roads and bay waters to all manner of passers-by, destructive or otherwise, an effort that thankfully failed. Stallone moved back to Los Angeles, telling a neighbor that Miami isn't safe for his family and leaving poor us only with .
He welched on his neighbors, too, leaving them with the $100,000 tab for street improvements he wanted and promised to pay for, and he left them upset about the prospective buyer for his 1993-value, $8 million property, the Orient-Express hotel group, which will have to pay for the cost of that "unsafe" area and dastardly public road he couldn't close by forking over at least $24.7 million to cover $12 million in renovations and provide the actor with a 20-percent profit.

A Miami 1997 Christmas Story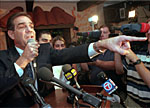 Xavier Suarez

The visitor passes in silent determination, noting the bland, light-green walls, the acoustic-tile ceiling, studded with smoke detectors, and cameras surveying hallways, and doors along a corridor leading to a large antiseptic room with a tall ceiling and large, barred windows, the bases of which stand eight feet above the floor.

The sky is gray and the Sun is faded, casting soft shadows onto the white-tiled floor, shadows of the row of five, white, tube-formed, iron-framed beds, all shiny and smooth and neatly made. The room is sparse, with only a single, white, two-foot-square table standing at the side of each bed, each table set with a plastic glass and a book. Recessed in a panel above each bed is an intercom, next to that, a likewise-recessed reading light.

A tall palm swaying in the hot wind casts a pointed fan of moving angles through the windows, against the floor and walls, walls which are lined with quarter-inch, pressed-cotton, canvas-covered pads, muting the distant sounds of horns and sirens and curses and occasional gunfire in the night.

At the back end of the room is a single doorway, with no door. Although the tenants of the large room are not to be seen or heard, upon approaching the doorway with no door, a muttering is heard, muffled and staccato. It gets louder as the doorway with no door becomes larger, opening onto a room which is a mini-sized version of the large one, except that the padding is thicker and the table is bigger, adding paper and a box of crayons to the usual book and plastic glass, this one, half filled with water. There is also a white, single-mold plastic chair at the end of the table opposite the bed, where a solitary figure sits, now silent, head in hands, his back to the doorway.

Suddenly, he stands and holds his clenched fists in front of him, shaking them, shouting out demands and threats of blackmail at the chief executive, unfounded assurances at the financial capitalists, severance at the heads of the departments, accusations at the newspaper, and emotionally charged propaganda and lies, spoken in a foreign language, at those who are obsessed on the other end of the radio microphone.

He has no fury for the tenants of the large room, though, because to him, they never existed.

This is Christmas in Miami City Hall, where the new, deranged mayor is the Grinch who prepared a throne for the thief who stole the votes, and where an unenlightened and backward exile electorate has transformed a city into a circus, well-stocked with clowns.
Copyright © Popularsovranty.org - All rights reserved
Permission to print and distribute this section is granted with condition that the entire page, including this
copyright notice and the top-page header images and data are included in the reprint, not just this section.

Deranged mayor? Too strong? It is the word Miami Herald columnist Carl Hiaasen wraps around the ex-mayor's actions, also throwing in "delusional loner" and "babbling fruitcake," and his colleague, Robert Steinback, described Suarez's leadership as having "mutated into a myopic...near-demented power orgasm;" so, I am not the first to have said it, other than to myself, and certainly, I am not the most public.

The little story above is a conclusion drawn from the culmination of events which had blown through the city of Miami since Xavier Suarez was named the winner over Joe Carollo in the November 1997 election—a win that reeked so strongly of election fraud that indictments had been handed out to campaign workers tied to the indicted-and-regardless-reelected Humberto Hernandez and the Suarez campaign organization, an odor so pungent that the state legislature had taken up an investigation into the absentee-ballot system, and finally, so undeniable that a court ordered new elections for mayor, and an appellate panel quashed that and said there must be punishment, and that punishment shall be that the results of the machine poll only will be counted, ergo, out with Suarez, in with Carollo. The lopsided results of the tampering were that 39 percent of all absentee ballots cast came from Hernandez's district, which has only 19 percent of the city's registered voters, and Suarez took 71.5 percent of the absentee-ballot count in Henrandez's district, while only garnering 55 percent in the other four districts—a difference that gave Carollo's polling-place victory to Suarez.

Suarez appealed the decision to void the absentee ballots (a decision that has precedent in the state Supreme Court) to the full appellate court and was turned down. Since then, he had continued to rant, much as he did while in office, revealing more clearly than ever the persecution complex so often at the forefront of the mentally impaired, claiming that his ouster was nothing more than a naked power grab by Carollo, done with the help of the courts, prosecutors, law enforcement, the oversight board and the Miami Herald, and that he would return, be it by rule of the Supreme Court or a referendum to revise the city charter—all spectacles... no, make that miracles, yet to come.


Violence, plots of death, and JFK...a coward?

Not one week into the new year of 1998, and the post-election story, before the appeals, had taken on the dark, cloudy shadows of Watergate. Here, it might come to be known as Grovegate, where in Coconut Grove (a once-artsy, now-over-developed, economically diverse, bay-side subsection of the city of Miami), three mask-wearing (and one shotgun-toting) home invaders terrorized and assaulted the house staff of an attorney who was involved with aiding the vote-fraud investigation and communicating with ex-Mayor Carollo, who filed the lawsuit contesting the election he would have won, sans vote fraud. The attorney also had corresponded with a member of the state legislature's Senate Ethics committee looking into abuse of absentee-ballot voting, and he brought the whole turbulent matter to national attention by convincing TV's 60 Minutes to cover it. Suarez had contacted the committee, hoping to find out what information they had regarding the fraud, and he was then warned by committee chairman Jack Latvala that people had better cooperate with law enforcement, that "if you don't tell the truth, you are going to jail."

Latvala, after hearing less than a day of testimony, concluded that the Miami election was probably "subject to an organized conspiracy." Among those the Senate committee came to Miami to hear, Hernandez failed to show up, and all but Suarez testified to the likely presence of fraud. Suarez, true to form, said that the only tampered ballots of which he was aware were those tampered with by the Florida Department of Law Enforcement (FDLE). "I did not have a single fraudulent ballot..." he said. He also claimed that an arrested campaign worker was a Carollo plant or, if not that, "somebody's hallucination." Several months later, Latvala could look a lot closer to home for voting problems, because a South Florida vote-fraud influence crept into the Florida House of Representatives when Alex Villalobos, a Miami-Dade representative, was found to have voted on the House floor dozens of times for the absent Rep. Rudy Garcia—a violation of House rules that went without admonition. One must wonder from where exemplary standards will be demanded and accountable, if not the state legislature. Corruption is a trickle-down-and-up phenomenon where seemingly small beginnings inevitably become large encumbrances.

These four armed men, and whomever may have sent them, also took this enormous risk to steal some property: a few old computers, televisions and jewelry pieces. The attorney wouldn't say if the computer's storage devices contained data on the vote fraud, but he did admit to using the computer to do other things, ranging from fiction writing to invitations. After their casual, half-hour visit, the invaders left behind two frightened women, a large TV, and thousands of dollars worth of other jewels and silverware. Not a very sane reward for either the trouble taken or invited, not for a deranged mayor, an indicted commissioner, or a Cuban political zealot. But then, there's this nice Carly Simon song: It Happens Every Day. Coincidence has a creative sense of timing, as well. The obvious question here must also have been in the minds of law enforcement, which responded to the crime scene with five Miami Police officers and three FDLE agents to investigate the armed break-in.

Within weeks of this incident, assault weapons seized in connection with illegal, U.S.-based attempts to assassinate Cuba's Fidel Castro had been tied to the president of the Latin Chamber of Commerce, and in October 1997, one of two 50-caliber sniper rifles, sold in 1994 to the president of the Cuban American National Foundation (CANF), Francisco "Pepe" Hernandez, which the F.B.I. believes were to be the instruments of a Fidel Castro assassination plot, was seized by the U.S. Coast Guard aboard a Miami yacht (owned by CANF Director Jose Antonio Llama) carrying Cuban exiles off the Puerto Rico coast. In August 1998, the seizures eventually culminated in Llama's indictment, along with six other exiles, including a CANF rank and file member, on charges of intent "to kill, with malice aforethought, Fidel Castro," conspiracy to commit murder, and five lesser counts involving the weapons. The CANF claimed the charges were...politically motivated, and attorneys who represented Llama (including ex-City of Miami Commissioner Humberto Hernandez's state and federal case lawyer, Jose Quiñon, a hatcher of dubious statements and conclusions in those cases) said that the "enemies of the embargo" were behind the indictments, and that, "When Castro snaps his fingers, our government jumps." An amazing statement, almost as much so because the U.S. government is referred to as "ours" as it is for its premise. The CANF issued a statement in support of the men, and the president of the Cuban Patriotic Council (another exile, separatist, community dividing organization) called them "patriots," adding that it is "absurd...to prosecute people who supposedly want to...kill Fidel Castro. I wish they had been successful."

CANF had been suspected of funding anti-Castro activities for some time, including the bombings. In regard to the indictments of its members on the assassination attempt, it said that resorting to violence is Castro's way; it makes him a terrorist. But, in a July 1998 letter, published in The Herald, Raul Mas Canosa (founder Mas Canosa's arrogant son, who became the number-two CANF official) said, "So what if Mas (his late father, as leader of CANF) aided Cuban bombings?" He went on to defend that terrorist activity by calling President John F. Kennedy a coward for not seeing the Bay of Pigs through and causing the deaths of hundreds of Cubans. So, it was clearly demonstrated that ignoring the rule of law, and that the acceptance of dealing in violence and illegal activity by highly placed Cuban Americans is hardly out of the question. The election campaign provided other evidence of that.

Raul Mas Canosa's labeling of JFK as a coward drew response from the community similar to the sentiment Rep. Charles Rangel's rebuke to Ros-Lehtinen produced in the House Ways and Means Committee in Washington: first, that to attack a dead man is a cowardly act, and from Miami resident Michael Bushey's letter to the editor, published in The Miami Herald:

"The real cowards were the people who ran from the good fight with Fidel Castro. The real Cuban patriots...either died fighting Castro or still are in Cuba fighting for freedom," and he said, "The motto during our American Revolution was, 'Give me liberty or give me death.' To too many Cubans," he added, "the motto was 'Give me liberty or give me Miami.'"

Mas Canosa also is insensitive to speak so of one of America's most beloved presidents, but then, he has no sense of U.S. history and no respect for the Americans who lived under JFK's or any other president's administration. And, Mas Canosa is unappreciative of a president and a nation which had no obligation to the Cuban people whatsoever, yet tried to help, up to the point that U.S. interests were threatened. And, as it turned out, JFK was right, because Castro's rule of Cuba has been of insignificant consequence to the security of America, save the missile crises, which was a Russian threat quashed by Kennedy with a resolve that can only be called courageous. No, with men like Mas Canosa, Llama and his CANF co-conspiritor, saying what they said and doing what they did, they are among the worst that America has suffered from Castro's rule, and it is they and their kind who continue to be the real threat of Castro to the United States.



Cock fights and the cucu's nest

Like pepper on potatoes, the coincidentally spattered pall of criminally violent, maybe-so, maybe-not related incidents gives way to the mound of material beneath. The spectacle begins, going back to the 1997 Miami mayoral campaign itself, with pitted brawls of shouting, name-calling, spitting, throwing, jacket and shoe grabbing by the Cuban-American supporters of both sides. The cock fight, an ugly import of the exile community to South Florida, was now manifest in city hall. A Suarez supporter shouted at Carollo, blaming him for sending ex-Miami City Manager Cesar Odio to prison, where he served a slap-on-the-wrist, one-year term in the white-collar facility at Eglin Air Force Base. Odio actually resigned to fight, unsuccessfully, the charges of mail fraud, theft and obstruction of justice, pleading guilty to obstruction after all the other charges were dropped. He fought for his $58,000-a-year city pension, and despite the pension board's paid legal consultant's recommendation that he be denied, for reasons unknown, unexplained and unjustifiable, the eight-member board saw fit to reward him his stipend, which he has been collecting since he resigned in 1996. In responding to this, Miami Commissioner Tomas Regalado temporarily surprised by actually saying and doing something appearing on the surface to be both concrete and commendable: he ordered the city attorney to render a legal opinion on the city's options in blocking the board's decision. Calling the board's vote on the side of Odio "immoral," Regalado said that he would have the board reconsider its decision, and if they did not rule against Odio receiving the pension, he'd move to file a lawsuit to overturn the decision, a move that would require the support of two more commissioners, which in the end, turned out to only be a politically motivated threat, exercised through the hot air of a practiced radio hacker, since after the board refused to review their decision, no such suit materialized, a failing of Regalado and the rest of the commission, since Regalado knew that, despite the commissioners' public proclamations against appalling public corruption, there were not even two more commissioners who would vote to properly punish it in city government. The ties of many board members to unions has been suggested as an explanation of their 5-3 ruling for the ex-city employee—another case, like the PBA, of blind, "union-right-or-wrong" mentality.

Back in the campaign, that elitist, Cuban-first philosophy showed itself also, when the same man shouted at Carollo, "You traitor! You imprisoned a Cuban!" Again, never mind that Odio was guilty of a crime and violation of public trust. Meanwhile, Hernandez is walking around, shaking hands, giving voters his most uplifting plea to win their support, telling them, "I want you to punish Carollo with your vote."

And then there were the the court appeals, where Suarez's attorney, Joseph Portuondo, managed to grab onto the ethnic lifesaver, previously and since used by Hernandez, and also since (without success) by Burke, when Portuondo accused The Miami Herald of waging a campaign against Hispanics. He made no mention of what the 50 or so witnesses, called by Carollo's attorney, were waging a campaign against when they all invoked the Fifth Amendment. It (the campaign and the court appeal later) was a banana-republic cock fight. And, in the case of the Suarez group, the election, with its forged signatures, falsified addresses, witnesses, dead voters, and bought votes, was illegal. Suarez's chief of staff, Jorge Alvarez, demonstrated another curious aspect of Cuban-right warped freedom of speech, as it relates to the courts, when he said that five witnesses who testified to vote-buying are "street people" whose word would not be admitted in court—certainly not his court. The most odious examples of abuse were those against the elderly handicapped, who were pressured to switch votes by campain workers who also helped them through the cumbersome procedures to obtain government benefits. But, whether or not Suarez knew of or had a part in any of these abuses, before he was eventually sent out the door by the courts, there was more shouting back and forth by supporters of both sides, and Suarez, in the end, managed by himself to release a heavy rain over his future in politics by his own actions that defy explanation, except perhaps, by a psychiatrist.


Qualifications? Baloney! I've got a crony

After Suarez was declared the winner, he immediately appointed Humberto Hernandez as chairman of the commission, despite his 25-count indictment on bank fraud and money laundering, saying that the indictment is not "an overriding problem." Apparently, he thought the Wall Street and banking powers-that-be, whom he had big plans to impress, would feel the same way. He then set out to undo plans, contracts, and procedures that were in place when he arrived, mostly in an effort to put his cronies into the mix. He hired a member of his inner circle, Manuel "Mickey" Minagorri, who had been heavily involved in campaign operations in poll transportation, volunteer organization, and absentee-ballot collection, to the then $80,000-per-year job of assistant city manager for development, building and zoning, an area of critical importance for Miami, and one for which Minagorri had no qualifications or background. Speaking of which, Suarez also had no background check performed on Minagorri, which would have revealed three arrests in decades past. Finally, the cherry on the tip of Suarez's cronyistic sundae was that Minagorri was vice president of International Medical Centers, a giant HMO which crumbled in 1987, a victim of mismanagement and scandal that sent its chief fleeing the country to avoid prosecution. And, it was Miami-Dade prosecutors who saved the day here, by reversing Minagorri's appointment, saying Suarez had again violated the hiring rules of the city charter.

The mayor was on a roll, though, firing almost everybody before he was stopped, including a popular city police chief, Donald Warshaw, who said Suarez was looking to conduct a "systematic dismantling" of the police department, forcing out experienced supervisors in place of "political cronies who are friends of the mayor." He added, "That's how politics and policing create an unholy alliance." And, all of it violated the city charter, resulting in the mayor's firings and appointments being reversed, and Suarez being placed on six-months probation by the court, a sanction that remained over him when he was finally ousted.



Battyman—night tales of the jammy-clad, clean-streets prophet

Suarez, who allegedly has a degree from Harvard, and makes one wonder where he got his test answers, made picking-up trash on the streets his signature cause, while exercising no apparent leadership over the commission he had placed in the hands of a criminal. Auditors discovered that, during his previous administration (1985-1993, as Miami's first Cuban-American mayor, in which many observers insist he was not the same man), $20 million in federal community development money was mismanaged, and the city, already facing a $68 million budget deficit (also a previous Suarez administration bequest) for the years ahead, also faced paying back $5.6 million of the mismanaged funds. Instead of preserving the budget-fix put in place by the previous Carollo administration, Suarez alienated Wall Street analysts and bond brokers by insisting there was no deficit or financial emergency (a claim he still made years later as a private citizen) and by dismantling the city's hard-worked economic-recovery plan. He then went on to resist cooperation with and slight the governor's financial oversight board, even as his own actions brought the city outside of state law by unbalancing the budget. At the same time, he told Spanish-language radio (where an us-vs.-them mind-set rules, and listeners often are told what is in stark contrast to statements made in English media) that the head of the oversight board should stay in his room because he [Suarez] "gets along extra fine" with the governor. Suarez made statements to The Miami Herald, threatening the governor to remove the oversight and saying he would call for an investigation of the governor's aides (to be headed by Hernandez, no doubt) on a never-revealed, "very delicate issue," to all of which Gov. Chiles responded, "Things are just a little bit bizarre down there."

Suarez threatened the newspaper with withdrawal of city advertising if it didn't start being kinder to him. According to the city charter, only the manager and commission have that authority, so Suarez marked himself for another state-attorney investigation. Commissioner Tomas Regalado, never one to let the voters forget that he's there, or miss an opportunity to say something meaningless, immediately claimed responsibility for Suarez's "blackmail" of the newspaper and apologized for it on the basis that he, Regalado, is a member of the press. The "press," as defined by his involvement would be: Cuban language radio talk-show announcer/commentator/propagandist. Hernandez only said the mayor didn't really mean it.

Rather than support law and order and the democratic process, Suarez blasted law enforcement efforts to get to the bottom of the voter fraud, and he encouraged citizens to follow his example and not cooperate with investigators, which is obstruction of justice, a charge he never had to face. Nor was he required to face charges of violating the Sunshine Law, or of again overstepping the checks and balances of the city charter when, during a fast week of successive meetings, in which he declared himself "Hurricane Suarez," then "Tornado Suarez," and finally, after all the wind in his head changed directions, he was "Typhoon Suarez" who called an unannounced meeting of the semi-autonomous agency that owns the Miami Arena and immediately appointed himself director.

He made car trips in his housecoat and jammies, and unannounced night visits, including one to an armed elderly lady who had written him a critical letter, who described his expression at the door as "furious," and then, after he was thrown out of office, he made a surprise night visit to Mayor Carollo. He also used the dark of a Sunday night to deliver the pink slip, without cause, to the holdover Carollo City Manager, Ed Marquez.

He made wild claims, like getting Miami's bond rating to "A" in two weeks, cutting taxes 18 percent within the year, and backed off when the hopelessness of fulfilling them finally penetrated his obscured vision, a trend that began from day one at his inaugural speech, where he said, "I am going somewhere so far, so beyond you, you are not even in it." As it turned out, in that alone, he was indeed a prophet with specular vision.


Deciple of the deranged

Then, the indicted Commissioner Humberto Hernandez, who, through his Suarez endorsement, campaign assistance, and illegal acts, was instrumental in the election of the deranged one, was rewarded by a no-conscience appointment to commission chairman, and then named to head a counter-investigation into the FDLE's vote-fraud investigation—the agency that eventually produced the evidence to indict him for running the voter-fraud machine, which centered exclusively in the district he fashioned as his own and pushed through the city commission the previous year. His family, employees, and associates were involved in one aspect or another of all the activities that were uncovered that overturned the election. When his legal secretary, Yarina de los Rios, who lied when she said she had a degree from Harvard, was arrested for three felony counts of false swearing, fraud, and falsifying her address in order to vote for Hernandez, he told Miami that her arrest was a conspiracy to entrap him and an "anti-Cuban act." He went on to name every other major ethnic group that, according to him, would not be arrested, but said that more Cuban-Americans will yet be targeted, statements the state attorney called absurd and insulting to all Hispanics. This, another ethnic defense, is an offense that defines him, according to Professor Dario Moreno, who said "Ethnicity is the last recourse of the scoundrel." There's also hiding behind a woman's skirts. So, in reply to a single issue, Hernandez had shown himself capable of dwelling in the trough between two lows, and now, it is of no surprise to the enlightened that there were witnesses who testified and tied him into the vote-fraud operation.

His conduct in the months Suarez was in office was far more reprehensible than his mayor's. It began as he arrived at city hall and raged that there should be no delay in swearing him in. City Attorney Quinn Jones III refused, saying that it must wait until the following week when the new, strong mayor is elected. Hernandez, in a fit of megalomaniacal arrogance and lust for power, then demanded that he be sworn in that moment, and then, after blaming Joe Carollo for the delay, he exclaimed, "I will be sworn in by myself in front of the city of Miami!" Failing this, he then called for a rush-hour, mass demonstration on a main street of Little Havana, imploring to the 100 or so supporters inside city hall, who all must be candidates for the next space ship hiding behind a comet, "Let's stop traffic and show Joe Carollo who runs Miami!" The cheering, shouting crowd reacted with such fervor that Jones, amazed at Hernandez's unawareness of the risks of such an act, commented that Hernandez was "basically inciting a riot."

As commission chairman, Hernandez pushed the commission's 4-1 vote to not renew the contract of City Attorney Jones, who had fired Hernandez for working at his real estate business on city time while he was employed as Jones' assistant city attorney. Jones had also blocked Suarez in his attempt to fire the police chief, and he ruled against Suarez on the Sunshine Law violations in connection with the mayor's Miami Arena board meeting.

As evidence of the part Hernandez's staff and family played in the voting fraud came to light, Hernandez responded to questioning and made statements in a manner and of a substance that clearly showed not only his disrespect of the law and the voters, but also for civility, saying he didn't think voters are concerned about fraud, pointing out that voters reelected him despite the criminal charges he will face. That statement should serve as the most direct lesson those voters could have of their grave mistake. But that's not all he said. The perverted perception behind the criminal eye also brings across the tongue this: "If you've been here long enough, you know that nobody gives a flying fuck if you ran a clean campaign. Nobody gives a damn."

Mayor Suarez had no criticism or discipline for these statements by his indicted, appointed commission chairman. And in the wake of these vaunted examples of civility and leadership, an overbearing high-school principal and a repressive, parochial, school board caused to be arrested, thrown in jail, and refused to allow appeal to return to their schools, nine high-school students who used vulgarities, graphic and written, in a pamphlet of protest about their school's conditions. The Killian Nine, as the press dubbed the students, could well point to Hernandez's statements and the lack of criticism by any of the city's elected officials as a defense for their decision to take the literary low road in their expression of discontent. Indeed, the commissioners on the dias with Hernandez still did not shun him, perhaps out of misplaced concern for some form of legislative decorum which, if true, needs to be more sensitive to the moral and exemplary needs of the responsible and offended segment of the electorate.

Mayor Joe Carollo's first act upon return to office was to remove Hernandez as chairman of the commission and order him out of his privileged, second-floor, terraced, bay-view office, and into a ground-floor space with a view of the parking lot. Hernandez refused to move for a month and then finally obeyed, which is good, because it was a move that certainly eased his adjustment to the view of bars and razor wire that, seemingly oblivious to him, eventually awaited him. His ground-floor office did have one amenity found in no other commissioner's office—a bathroom, which could have been helpful in helping him cleanse his mouth.

Do not go gentle into that good night... Rage, rage against the dying of the light.

Dylan Thomas was writing of facing death, but he could not have penned a more fitting lyric for the events that played before the citizens of Miami after Suarez was removed from office, beginning with more of his night visits, then turning back to a replay of the raging that marked his first weeks in office, and finally, the foreboding revelations of the destructive path the city was embarked upon and would have traveled to a costly end had he remained in office.

Soon after returning to his office, Mayor Joe Carollo ordered the police chief to launch an investigation into missing furniture and papers, the disposition of which was the purpose the nighttime, unannounced visit from Suarez to Carollo's house referred to above—a meeting Suarez described as friendly and cordial, and which Carollo called disturbing and unnerving to his children, describing Suarez's expression as one of instability "the type [of which] you only find in places like Bellevue." Suarez accused Carollo of going overboard, saying, "This is the mayor who [in the past] said someone stole the screws from his car. There are screws missing, but it's not from his car," Eventually, most of the missing property, none of it screws, was found scattered around offices in two city buildings.

Suarez then returned to the Spanish-language radio waves and again attacked the police chief he tried to fire when in office, this time for not allowing the department to pay for his former staff's luxury cars. This extravagance was only one instance of fiscal abuse aimed at his department which the police chief pinned on Suarez, citing his demands for a $6,000 alarm system in his home, a full-time, marked police car posted at his home and at restaurants he frequented, and police transportation from Miami Arena events. Warshaw, while saying he didn't want to get into name-calling, did say he was tired of the former mayor's threats, and that Suarez's four months in office were marked by "the most rampant abuse of power that I've ever seen..."

Aside from spending abuses aimed at the police department budget, in his less than four short months as the mayor of a city that had just gone from a $68 million deficit to a small surplus (achieved with increased fees on city services, city-wide budget cuts and concessions from city employees), and then back stepped to a $28 million deficit, thanks to his dismantling of the recovery plan, Suarez was more than willing to eat steak and lobster while only spam and fish sticks were affordable. The city manager reported that Suarez was exceeding his near half-million-dollar office budget and was projected to run a $60,000 deficit. Other excesses included small group lunches of $200 for advisors and campaign supporters, with several tabs close to $700 for larger groups, thousands of dollars on delivered food from an exclusive, high-priced market, a three-month billing of $1,775 for coffee, more than $7,000 on cellular phones and calls (a prohibited item under the previous administration's financial recovery plan), private plane trips for supporters to Tallahassee budget meetings, a $95 gift for a fund-raiser's daughter's birthday, $1,300 for leather wallets with consular badges, and when all of these bills were found, it was uncertain how much more was payable and yet to be discovered, since Suarez regularly failed to turn over receipts. Suarez criticized The Herald for "again focusing on the little things." But these "little things" were more money spent in less than four months than the previous two mayors spent in a year. Yet, for Suarez, this was just to be the beginning. He also asked for keys and unfettered access to the Miami Heat basketball arena to practice, and he wanted a tax-supported mayoral mansion—fortunately, Sly Stallone, whose Coconut Grove, water-front manse was for sale, had since lost one potential buyer.



Sneaking away with money—a multi-level political practice

While Commissioner Regalado was quick to take the mansion issue and spotlight himself with his predictable criticism, it was he and other commissioners who, at about the same time, passed an item not on the agenda (pocket item) to bankroll a pile of special favors for themselves while killing benefits of city employees. Their post-Christmas present to themselves included, for each commissioner, a life insurance policy costing $15,000, an $18,000 expense account, a $25,000 private legal-service fund, and laptop computers and other office equipment for their homes. Considering that the city needed $15 million to balance the budget at the time, their intent was every bit as abusive and scandalous as was Suarez's. The Herald paid attention to those little things, as well, and under the glare of the inflamed public eye, the perks were quietly swept under the table. Only a few weeks later, after the state oversight board rejected the proposed Miami city budget, Regalado found his concern for the economic suffering of the city's poor so overwhelming that he had to point out that the budget issue "is about people not having money. I have invited the oversight board to come with me and visit the barrios [suspected, third-world banana-republic term for ghetto or destitute residential area] and see how poor the people really are."

Meanwhile, in the Miami-Dade County Commission, another commissioner was spotlighted for her pet project's appearance on a state education budget, tied to funding for F.I.U. A $300,000 appropriation for Commissioner Natacha Millan's project, the Simon Bolivar Institute, which was just a few local area directors led by Millan's aide, with a stated goal to avert domestic violence within Hispanic families, stood a better chance of approval if tied to a state-education fund. Attempts to fund it separately in the previous session were vetoed by the governor because its purpose was already served by another state-funded project associated with Miami-Dade Community College. Although the state board of regents had come out in alarm and strongly against low-priority spending items being attached to the university system budget, because they threaten universities' matching-fund contributions, F.I.U. allowed Commissioner Millan's "dream" project to remain attached, and aside from not being a low-priority item; it wasn't even on their budget list at all! State Representative Annie Betancourt was helping carry this deception through the house, although the amount was cut to $150,000. It was only later, when Betancourt, the state house's only Cuban-American Democrat, split with the rest of her Cuban-American legislators to form a Hispanic-American caucus, that she found the motivation to do what she should have done in the first place: oppose the funding entirely.

Of course, neither Millan or her staff knew anything about how the budget request wound up attached to a state education bill. Representative Carlos Lacasa, the project's legislative sponsor, didn't remember for whom he was sponsoring either. Moving money in this manner should be a violation of the Sunshine Law (as is meeting on the people's business behind closed doors). As it is, if it had passed, a few board members at that obscure institute would be in for a windfall paid for with taxpayer dollars, and the Hispanic domestic disturbance calls handled by police would likely not diminish one iota. Fortunately, Gov. Chiles saw through it and with (or without) the late recommendation of the defected Betancourt, he used the line-item veto to strike it from the budget. But $230 million in tax give-backs were passed, and other interests still received enormous funding (like the Latin American Chamber of Commerce's $700,000), which in total amounted to more than $250 million—after the governor's vetoes; this, as 250,000 state children without health insurance were budgeted on the last day of the session as blackmail for the governor's lenient veto pen on pet projects, which still left more than a half-million children uninsured, while schools still went without nurses, classrooms without relief from overcrowding, and, at ages new science has shown that education is increasingly more critical to their educational and character development, pre-K-school three- and four-year-olds were left without increased spending, and preschoolers without schooling at all.



I won! I won! Gimme the prize. Miami's game-show public-service mentality

While some worms are pecked, many still travel far in the rotten apples that litter government—all the way to Alaska! So it was with County Commissioner Javier Souto's order to staff employees when a silver Buick Park Avenue he favored for his county-paid car was sold by the dealer to someone else. The same car was available—for his free use, a commissioner perk, a prize for winning an election—in at least three other colors, but that was not good enough. Souto had to have silver. Forget that being a commissioner is supposed to be public service. Forget that, through fraud and mismanagement, county funds for transportation were inadequate, as were they, and are they, for a myriad of social needs, and that commissioners should be more than grateful for free fuel and insurance for their own cars, let alone a paid-for luxury model. Park Avenue is Buick's top-of-the line car, and Souto said, "I am a hard working commissioner...I need the car as soon as possible. Find it—in Alaska, if necessary!" So, aside from Souto's distracted and warped priorities, he had the county employees, who were supposed to be working for the betterment of the people, wasting their time for his selfish vanity. To date, there has been no report of him having pursued the responsibilities of his office with such aggressive motivation. But, to look on the bright side—there is always a bright side—if Suarez had still been mayor of Miami, he'd likely be sticking the city with the fee for the likes of a Rolls, or a custom Hummer with a built-in, basketball-court's three-point zone, and he'd be pestering city engineers to raise overpasses to accomodate it, and the police chief to provide guards for it when it's parked.


The hammer falls...finally


T-Rex is about to devour lawyer in Jurassic Park.
A jury letting him go was a real concern. Many will say that Hialeah's mayor owes his freedom to the verdict of a misguided jury. The Miami Herald labeled Hernandez, even after he was sent to jail, one of Miami's most popular politicians, and immediately after Hernandez was sent to jail, outrageous exclamations were being offered by those who still retained a perverted understanding of right and law and justice: "It can't be!" said one. "There is no justice!" cried another. Wrong and wrong. Yet another called the judge's sorely needed decision "sad," but it was a decision the assistant prosecutor called "heroic...[sending] a strong message [that] there is no double standard for public officials."
A week earlier, when Hernandez was first arrested on the vote fraud charges, Mayor Carollo called it a "sad day for Miami," referring to the fact that another public official had gone afoul of the law. But that was a wrong viewpoint. In this, the putting behind bars of an unconscionable criminal, there is only justice. And, it was a great day for Miami, because it was a defeat for arrogance and power-lust, and a warning that others should think long and hard on their perceptions of public service before they act to betray it. On August 19, 1998, Cuban-American Dade Circuit Court Judge Roberto Pineiro took Hernandez to task for his part in the vote fraud and his negative community attitude when he scolded Hernandez during sentencing:
Apparently realizing that his politically blind Cuban exile supporters and Spanish-language radio addicts could not shield him from the consequences of his crimes and arrogance, and that a jury constituted of a majority of Cuban-Americans, as sat on the vote-fraud case, would not do so, eight days after sentencing on the vote-fraud charges, Hernandez pleaded guilty in federal court to a single conspiracy count involving a key role in 20 real-estate transactions that defrauded banks and laundered proceeds from one of the largest Medicare frauds in the nation's history. The plea was an agreement with prosecutors. If convicted of all 23 counts against him, Hernandez could have been sentenced to 13 years. Under the plea bargain, he received a four-year sentence on the federal charges, to be followed by his state, 364-day vote-fraud term. He had tried to have the federal sentence made concurrent to the state's jail time, but prosecutors objected. And, in a move long overdue, the Florida Bar finally began disbarment proceedings against him, and he was disbarred on June 8, 2000. But he was also convicted of accessory after the fact in the Eleventh Judicial Circuit Court, and the court deferred consideration of the facts of the conviction until such time as Hernandez may seek reinstatement to the Bar.
Countering this, a soap-story plot was hatched between Hernandez, his wife, Esther, and his attorney, Jose Quiñon. It began with Hernandez's wife and Quiñon being seen making coo-coo at each other in one of Miami's most prominent after-work, happy-hour locations, a place also frequented by muckety-mucks in the legal system. No subtlety here, but then, Hernandez has never taken the effort to be subtle in his bamboozeling of the people. After rumors of the improper liaison turned into reports in the newspaper, Hernandez's wife confirmed the existence of an affair in an interview, with jewels like, she "would do it again," and "I don't kiss and tell," immediately followed by "I want to make this into a movie. It would be a great movie." Sure thing, Esther, I'll reserve half a star for it. The plot ends with Hernandez applying for a retrial on the basis of his attorney's conflict of interest—love interest. Prosecutors opposed, as much as calling the scheme cheap theater.
On June 3, 1998, Carmen Lunetta, charged in an indictment with ten counts for theft and misspending of $1.5 million in port funds, surrendered to authorities. Calvin Grigsby and another contractor were also charged. That pack also denied any wrongdoing, and although Hernandez brought Mickey Mouse into the muddled Miami political landscape, with so much corruption and so many denials, it seems Pinocchio would have been far more apropos. At any rate, when the trio went to trial, the judge dismissed the charges, noting that although they had improperly conducted themselves in managing funds, there was no evidence of a crime against the county. Of course, in statements after the dismissal, Lunetta was quick to declare himself exonerated and a faithful public servant, ignoring the judge's recriminations for his and the other defendants' conduct, and presuming everyone else in the county is stupid enough, given the itemized list of spending abuses that were public knowledge, to view his dismissal as a stamp of innocence.
Several weeks later, Lunetta was indicted again, this time on five counts for charges relating to vote fraud, and he was convicted.
Meanwhile, Miami Mayor Joe Carollo, the city manager, and some commissioners were name-calling and screaming at each other at various times over various issues. The mayor called Commissioner Tomas Regalado, who also wants to be mayor, a "scum bag" for his support of the city manager when Carollo was firing him and firing him and firing him, the mayor also saying that "Regalado is the worst commissioner in Miami history," which wasn't saying much, since the Cuban-American population had already demonstrated an abbreviated recognition of Miami's history. But, even though his labels were true, to speak them openly was a clear violation of etiquette, showing that kindergarten government in the city was destined to go on and on and on...and will probably continue to go on and on and on as such. Maybe Esther should have focused her ambitions on the Miami mayor's chair instead of being a diva movie slut.
During and since all of this, county officials, obscured from the radar by the severity and almost laughable drama of the Miami political storms, have nonetheless been active. Cuban-American Miami-Dade County Mayor Alex Penelas advocated insurrection against the federal government days before U.S. Immigration agents freed Elian Gonzales from the captive abuse of his smoking, drinking, and unemployed Miami relatives, returning him to his father. Florida voters should remember that if they ever see his name on a ballot outside of Miami-Dade. Besides, electing him means you'll see so much of him that you'll be sickened. Penelas is perhaps—perhaps the only man on Earth to have more publicity-seeking genes than Commissioner Tomas Regalado. He has his eyes on the Florida governor's chair, where he would certainly have more opportunity to put his mug before the cameras. When Hurricane Irene threatened in 1999, Penelas used any opportunity to grab the spotlight and make mundane weather announcements not nearly necessary or a function of his office, or within his knowledge sphere, even going so far, according to a Channel 4 News reporter, as to limit access to information from emergency-management officials, giving him a monopoly on the initial dissemination of county-related news, and the mayor also parrots weather reports in times of crisis. I suppose this is an example of why Hispanic Heritage advertisements called him the most influential mayor in Florida?
All immigrants applying for citizenship must be able to demonstrate an ability to read, write, and speak a fluid, conversational English. There can be no preservation of a culture if the language that binds it together is abandoned for the convenience of any new group. Finally, each citizen-applicant should be required to take and pass a slate of American history courses which are already certified and available at any college or high school. High schools and community colleges can be integrated into a program to provide this comprehensive history program, which should be made available without charge to applicants who demonstrate an inability to pay what should be a reasonable fee. Like any high-school or college course, the comprehensive history program (to include American Government 101 or a high-school senior-level course equivalent) should be graded, and a passing grade of "C" or better should be required in each course to qualify for citizenship. True, citizenship will take time, effort, and it will not be nearly so automatic, but the process should not be so, nor should it be less comprehensive than this program, which will insure that those who do vote know how the privilege to do so evolved, and it will insure that they have an insightful understanding of the meaning of their vote and a knowledge of the system in which they are participating. If one desires to change or take control of a system, then one should first, at least, be required to really have the opportunity to know and appreciate that system. Governments can continue to sponsor dual-language programs and other aid programs (without a history and government course requirement) to assist needy resident-immigrants who do not speak English and refuse to learn, but these people should not ever be granted the voting privilege that comes with citizenship.
As for the media, local news stations continue to incessantly, unnecessarily interrupt regular programming during hurricane or other threats, and to use national and international news for main programming, material of which only the dead could be unaware, since national news and cable news originate and repeatedly broadcast such coverage, which is only local-news justified on the late news to serve viewers without cable or satellite. One wonders how long it will take for local broadcasting to come into the cable/internet age and stop acting as though they, all of them, are the only source for information on national events. It may be that Channel 10, with their new "Local 10" slogan and to-be-determined emphasis on local news, has finally caught on that there is sufficient news in Miami-Dade to be uncovered, besides accidents, shootings, and strong-arm criminal arrests, that they need not parrot national news media and all act like they are Tom Brokow, which may serve the ego, but not the market. Let's hope so, and hope that the other local stations decide to make local news their priority, as well, because since Suarez and Hernandez have passed from the scene, local-government news, being left uninvestigated and uncovered, has become decidedly dull. Granted, in the competetive news age, stations must pay their way, and it is difficult for one station to afford the investigative resources local-government news coverage really needs. What they should do is form an investigative pool of reporters and crews—reporters strong on journalism, not looks—to share the costs; that may be the most effective way to meet their obligation of acting as a watchdog on government and reporting the news the public needs to know. Together, they can follow the money to the crime and corruption we all know is still out there somewhere.
Finally, for now, an original observation inspired by listening to the bickering and maneuvering of the candidates in the 2000/2004 presidential election:
He and his wife were naked in the shower, and although they may have thought they were safe in the privacy of their home, cloaked in the protections of the Constitution, in the vengeful eyes of an out-of-control police force surrounding them and poised to strike, they were also stripped bare of that venerable shield. Through five hours of a nightmare from hell, 26 Fort Lauderdale police officers and other agents gave Sonny Irons and his wife a flashback into Nazi Germany, when Hitler's secret police raided the homes of opposition government officials and judges, or into the horror of what it must have been like to be a Jew in Poland after the occupation, when Nazi storm troopers swept their terror into innocent citizens' homes.

A police helicopter flew above on June 3, 1994, as officers used bolt cutters to break through the gate and invade the house, where they hauled out files, including Irons' political and tax files, his office equipment, computer and business cards.

There was no indictment for fraud, drugs or for terrorism or murder or kidnapping or rape; although, a rapist of girls 11-13 years old is still on the streets of Fort Lauderdale trying to increase his victim count. No, against Sonny Irons, the police were armed with three minor code violations, an $87.96 tax bill, and most important, to them, a will and a way to vent their anger against a career political activist and former chairman of the city budget committee who dared to call for a revamping of the police department, especially taking aim at their bloated pension plan.

Irons' equipment was ruined, the police pressured the tax appraiser to raise his assessment, petitioned the IRS and FAA to investigate him, examined his records in the building department, subpoenaed the records of his business contacts and slandered him before his customers and business associates. Irons' business was ruined, and he was eventually forced to turn to his family for financial assistance.

When the dust had settled and all the "evidence" was examined, the Broward State Attorney's Office found itself with no crime to prosecute. "No citizen of the United States, especially a citizen of Fort Lauderdale should be put through this," said Fort Lauderdale Mayor Jim Naugle of the case.

Irons filed a civil suit against the city of Fort Lauderdale in U.S. District Court, and when it is over, he should run for office. At least, thanks to the police department's abuse of power, the voters know he has one hard-to-find qualification for office: an honest background.

---


The following, excerpted Reuters report, reprinted verbatim, speaks of the horror, outrage, pain and sorrow in Kosovo so clearly, that to condense and narrate its facts would diminish the impact the atrocities it relates demand:

01:38 PM ET 09/29/98

Women, children, old, massacred in Kosovo

By Andrew Roche
GORNJE OBRINJE, Serbia, Sept 29 (Reuters) - Throats cut, or shot through the head, the bodies of Kosovo villagers were on Tuesday still strewn in the wooded gully where Albanian neighbours said they were massacred by Serb troops on Saturday.

At least 10 of 16 corpses seen by this reporter in or near the gully near the central Kosovo village of Gornji Obrinje were those of children, women or old people. All 16 wore civilian clothes and most appeared to have been killed at close range with deliberation.

The discovery of the site, among the most damning evidence yet of the methods used in the conflict by Serbian forces, came as Western ambassadors met in Kosovo on Tuesday for talks intended to show Belgrade the threat of NATO air strikes is real.

Weeping relatives and neighbours, digging graves for the dead on Tuesday, said most of the victims — nine of them members of the same extended family, the Delija clan — had taken refuge in the gully after Serbian police and troops surrounded the small village.

Like thousands of ethnic Albanians in the southern Serbian province terrified by a Serbian military offensive, they had built a crude shack a few hundred metres (yards) from their home, as a refuge whenever troops were in the area.

Neighbours and members of the Delija family who escaped the attack said they believed Serb troops had caught an old man of the clan, Ali Delija, still at his home on Saturday morning and forced him to lead them to his kinsfolk's hiding place.

"I heard screaming and shooting," said Sadri Delija, a middle-aged man of the clan. "When the troops left, we found them dead."

He said the killers wore the uniforms of both police and Yugoslav army. Ethnic Albanian reports said they belonged to special forces.

Frozen in agonised positions suggesting struggle or flight, nine of the dead lay close to each other in a glade among forest flowers, warm autumn sunlight playing across their faces.

A dead baby of one to two years old, with facial wounds, had apparently tumbled from its mother's arms after she was shot through the head. A boy of less than ten had his throat slit. A pregnant woman was shot through the head.

Further down the gully, an old couple still lay in their crude temporary shack. Neighbours said they believed they had not even had the time or strength to try to run. The woman's mouth was open wide in an expression of terror or pain. Her foot had been neatly severed, as if by knife, and lay next to her. The man's brain appeared to have been removed after he was shot in the head, and deliberately placed a few feet away.

A few metres further on through the trees, grizzled Ali Delija lay with his throat cut. A knife which relatives said was from his own home had been placed on his chest.

Closer to the village itself, the charred bones of an adult lay in the smouldering ruins of a house. Several hundred metres away in pine trees, two middle aged men, said by villagers to be brothers, lay on deep tracks made by tank tracks. Both had been shot in the head.

This reporter saw the corpse of another middle-aged man in the area, with gunshot wounds in his side. Another western reporter said he saw the bodies of three elderly people killed by gunfire at other spots in the village.

None of the clothing or personal effects of any of the dead showed any sign that they were involved in the bitter military conflict in Kosovo, in which Serbian forces have all but crushed the separatist Kosovo Liberation Army guerrillas which briefly took control of many rural areas earlier this year.

Western visitors said they had seen armed ethnic Albanians in the Gornji Obrinje area on Tuesday, among the remnants of the KLA which Serbian forces say they have been mopping up in recent days with ferocious artillery assaults on mountain villages.

None of our family had any connection with the KLA. They were Albanian, they were here and so they were killed," said another relative, Hamid Delija, a middle-aged man who spoke evenly as if in deep shock.

A Western military official visiting Kosovo told Reuters on Sunday the Serbian military tactics, of bombarding villages indiscriminately, could only be described as "collective punishment" for the separatist rebellion.

Hamid and other villagers began lowering the bodies into unmarked graves in the corner of a neaby meadow.

---


Colombia, the land of assassination and kidnapping, where murder is the course of second or third resort, after the bribe and/or the threat, and where more elected and law enforcement officials (and journalists) are slain (and fewer perpetrators caught) than it is possible for me to keep track, has upped the bloody count with another killing; this time, the mayor of San Calixto was kidnapped from his home and murdered in November 1998 by National Liberation Army (ELN) rebels.

In September 1998, a court official was killed when a bomb placed inside the body of a peasant exploded as the official began to examine the corpse during an inquest. Police place the blame for the bomb on the ELN. A motorcycle drive-by shooting the same month killed a Liberal Party congressman, while a few days earlier, a Roman Catholic priest was shot to death during performance of a Mass, murdered for his political advice to citizens in the Ecuadorean border town of Puerto Caicedo.

Human Rights Watch/America's Executive Director Jose Miguel Vivanco, in an October 1998 statement, said that, "Levels of impunity that exist in Colombia are incomparable with the rest of the hemisphere." His organization reports there were 185 massacres (mass killings) in 1997, and that the Revolutionary Armed Forces of Colombia (FARC) carried out 12 of them, along with numerous executions and deaths through booby-trapping of corpses. ELN also violated international laws by attacking hospitals, killing prisoners, and by placing land mines with terrorist intent on civilian populations, and all factions, including the police and army, conscript children into combat roles, even recruiting them from elementary schools. By November 1988, the annual kidnaping count had reached 885 people, but this report only relates a fraction of the carnage, and doesn't include any of the thousands of non-governmental, non-clergy citizens buried before their time. But, for now, call the leadership death toll a large cemetery full, plus four.

---


Ignoring evidence that clearly pointed to self defense, a Honduran court sentenced a U.S. citizen, Gustave Valle, to ten years imprisonment on charges of murder. The incident was linked to a land-grab attempt, and some Honduran legal experts claimed the justice system deliberately hindered the trial's progress—Valle had already been imprisoned five years when sentenced. A former Honduran judge, Mildred Budde, who was unexpectedly dismissed from the case after she made rulings in Valle's favor, said, "The scales of justice are tipped against Mr. Valle." She said that she had not seen a single American-involved case found in favor of the American in the last four years. In response to the sentence, and as the result of Maria Skumanich's (Valle's sister) outspoken lobbying, a U.S. congressional committee voted to suspend a $4.1 million U.S. aid program intended to bring about judicial reform in Honduras.

In an August 1998 news conference, Honduran Supreme Court President Oscar Avila accused the U.S. of trying to blackmail Valle's release, but he had no accusations to make regarding the Honduran version of the FBI discovering that documents were forged in Valle's court file, or the Honduran human-rights prosecutor's statement that the judges in the Valle trial should be prosecuted for "abuse of authority" because of the number of errors and instances of misconduct that were uncovered. Nevertheless, in November 1988, Valle, already having served 5-1/2 years, was released on parole. Though out of jail, Valle is still appealing the conviction and is filing lawsuits against Honduran officials he says framed him.

---


It was cowardly, vicious murder, four black men who, as part of a Capetown, South Africa mob in 1993, attacked and chased down 26-year-old Fulbright scholar Amy Biehl's car, dragged her from it and then stoned and stabbed her to death. But in late July 1998, the four, serving only 18-year terms for their crime, were released by the Truth and Reconciliation Commission, which is investigating human rights violations in the fight against White rule, and which granted the amnesty because the four met the commission's scant requirements by confessing the complete truth of their acts and because their unforgivable actions were ruled political... political, despite that Ms. Biehl was a visitor from the U.S. working on behalf of her murderers to register Black voters in the election that ended apartheid, the first South African election to include Blacks.

This commission, and others in the past which have sought to simply bury man's cruelty to man under blanket amnesties, overlooks and dehumanizes the focus by granting a moral justification to unjustifiably cruel acts of torture, rape and murder. It places lowly politics above the Golden Rule, above law, and above sin, and if man is to ever move into a more civilized, global future, politics must no longer be so elevated. There must be some boundary which cannot be crossed in human interactions, despite the circumstances, and if murder is not to be among them, then murder will continue to be viewed as an escapable act in social struggles through history, and the future is condemned to remain stained by barbaric atrocities.

It is not ironic that, in the face of such unconscionable evil and unpardonable lienency, a true act of forgiveness emerges that is the only redeeming aspect of the entire event and the sole example of compassion and morality that should be remembered and modeled—it is not the amnesty of the commission or the forgiveness of the families of the four murderers, but rather, it is the forgiveness of Amy Biehl's parents, and their unselfish support of the commission, put forth when they said:

"We hope [the four pardoned murderers] will receive the support necessary to live productive lives in a nonviolent atmosphere. In fact, we hope the spirits of Amy and of those like her will be a force in their new lives. We must never forget people who lost their lives in the struggle. We must honor them in discovering new approaches— nonviolent partnerships to create the South Africa which Nelson Mandela, Amy and those who perished dreamed of: a new, multiracial, democratic nation."

---


Late July 1998 finds Mexico in a three-year crime wave, tied to what residents of Mexico City call the most feared gangs of criminals—corrupt police, 16 of whom were arrested for kidnapping three girls, aged 13, 15 and 18, who asked for directions and accepted a ride in the police van. The girls were taken to a police horse stable, where over four days, the police repeatedly gang raped the two youngest girls before all three finally managed to escape. Mexico's inordinate crime continues despite the firing of 70 officers a month for corruption, according to Mexican police sources, who claim it is the result of a 40-year lack of attention to internal policing.

---


Uganda, a country that once endured the murder, rape and other horrors of dictator Idi Amin Dada, decades later remains plagued by the forces of the dark side. In June 1998, officials of the United Nations Children's Fund condemned the Lord's Resistance Army for the kidnapping of 40 girls, who are destined to suffer enslavement, torture and rape at the hands of the soldiers.

---


An American citizen, 28-year-old Lori Berenson, was convicted in 1996 of treason by a Peruvian military tribunal for her ties to a Marxist rebel group, allegedly helping to plan an attack on Peru's Congress, which never happened. She was sentenced to life in prison by, appropriate to the brazen illegality of the act, a hooded military judge. Sr. Valle Riestra, Peru's Presidential Cabinet chief, argued that she should be released and deported because she is neither a Peruvian citizen nor a member of the military, making her trial an improper denial of due process. President Alberto Fujimori, however, closed the door on any possibility of pardon, claiming it would send the wrong message both at home and abroad.

U.S. officials requested a new [illegal] trial and in July 1998, Peru's Supreme Military Tribunal, hooded or otherwise, naturally declined to do so.

In October, officials moved Berenson from her cell in the 12,700-foot-elevation Yanamayo Prison, which had open windows and only cold water for bathing, to a less harsh prison at a lower altitude for "medical tests." Prison spokesman said there was nothing seriously wrong with her, but her family insists she has been in poor health, suffering from laryngitis, weight loss and a swollen liver, since being confined.

---


In 1980, four U.S. church women, three of them Roman Catholic nuns, were raped and murdered by five Salvadoran soldiers. Four years later, the soldiers were convicted of the crimes and sentenced to 30 years imprisonment. In April 1998, the Salvadoran government passed a new parole law which mandates judges to release prisoners on the basis of good behavior while imprisoned. Three of the five convicted soldiers, including the group's commander, qualified for parole under El Salvador's uncivilized new law and were ordered released after serving only 17 years. In July, the Salvadoran government's court petition to overturn the three killers' paroles was refused.

While Lori Berenson rots in a Peruvian prison cell and three Salvadoran soldiers who raped and killed four U.S. women go free, Americans planning business or vacation options in Peru or El Salvador should consider sending a message to Fujimori and the Salvadoran legislature, both clearly in need of an object lesson in justice and the consequence of messages sent. The U.S. government seems to be unable to understand the need to consistently slam the door on countries exercising their backward processes against its citizens, as it did in Honduras with Gus Valle's treatment of misjustice, so I can only point out the disservice that such diplomacy imposes on all Americans and the need for individual citizens to collectively act where the U.S. government will not. Gus Valle's sister demonstrated such action can produce results. A call to the Peruvian (305/374-1305) and El Salvador (305/371-8850) consulates in Miami, informing them that you are changing your plans for Lima or Managua to, say, Costa Rica or the Bahamas, could work wonders and would at least let them know their leaders' ignorance is causing them some harm.

---


On the day before the start of Summer in 1998, the lust for barbaric justice boiled in the blood of 2,000 viewers who, assembled in a Kabul, Afghanistan stadium, watched doctors amputate the right hand and left foot of a convicted thief.

---


Wives may have worn smiles in the southern Turkish city of Ankara, where in May 1998, prostitutes, who are registered legally to service their clients, went on strike in response to constant harassment by the vice squad, complaining that even their clothing choices are a target for law enforcement's interference.

---


In northeastern Romania, a spring 1988 Reuters report tells of a cleaning woman who has been legally charged with witchcraft by the mayor, who fired her from her job at the village hall and confiscated her broom. A leading Romanian newspaper said the woman was found at work in the village hall "burning candles on a stone" and "cursing hall leaders." The mayor will bring the stone to court as evidence. The report didn't give the mayor's name or say if the mayor had ever visited Miami or was related to Xavier Suarez.

---


Denver, CO residents, in late Winter 1998, cloaked apathy in a cold, heartless coat when a cab driver was beaten to death and robbed in plain sight of apartment tenants who watched the brutal events from their windows, not even bothering to call police. When police, alerted by the driver's friend who called from a nearby store, finally arrived, they searched for the man's body without ever being told its location by witnesses who watched the killers dump it into the cab's trunk.

In September 1998, New Jersey lawmakers responded to the baseball-bat beating by two men on a 31-year-old woman, by introducing a bill that would make it illegal to not report crimes witnessed to police. Three friends of the two men watched from another car while the woman was battered during the attempt to steal her car. The law would primarily be a tool to prosecute those involved on the scene in the commission of a crime but who do not take part in an actual assault or theft, and would make New Jersey only the fifth state, after Massachusetts, Minnesota, Rhode Island and Vermont, to have laws requiring witnesses to report crimes.

---


In Karachi, Pakistan, the father and tribe of an ethnic Pathan bride, Riffat Afridi, sentenced her to death for eloping with her husband, Kanwar Ahson, who is from an ethnic rival tribe, the Mohajir—Indian immigrants. Accused by the bride's family of kidnapping, Ahson, who had been friends with Afridi for almost four years before they eloped, and who first asked permission of the girl's father, was arrested on charges of sex outside of marriage, but he produced a valid marriage license and then went to jail anyway to await trial.

News of the wedding set off rioting in the Mohajir dominated city of Karachi, where for 14 million residents, the city was shut down, and two people were killed. Pathan tribesmen, for the sake of their "violated honor," threatened more violence unless the girl is found and arrested so that they can either shoot or stone her to death. The girl was reported to be seeking refuge in a civilized western country.